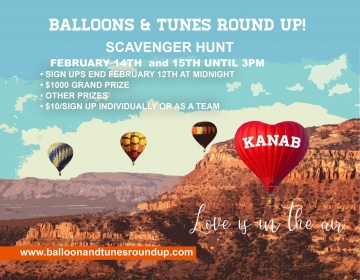 Calling all Hot Air Balloon enthusiasts! Save the date for the 6th annual
Balloons and Tunes Roundup
February 14,15,16, 2020.
This year we are expecting 40+ Hot Air Balloon Pilots and 12 Bands over another beautiful Presidents Day Weekend.
We are hoping for perfect weather so our pilots can launch all three mornings!
Hot Air Balloon Launches will take place at the former Coral Cliffs Golf Course in Kanab each morning at 7:30am (weather permitting).
...